Tossing my bag onto the black rubber-wheeled conveyor, I dug into pockets and fed the stewardess my credentials. A hardened stare made contact with a smile. The stewardess promptly reinforced the notion that I had made a rookie mistake; checked bags for international flights needed to be checked in no less than one hour before the flight. Strike one.
"Is your name anywhere on this luggage?" the unamused stewardess asked.
I stared at the alien backpack encased in plastic wrap. Wanting to give an explanation but unable to settle on anything reasonable, I simply said, "No, not yet." So conditioned to carrying all of my personal gear in a single backpack, like the one resting on my shoulders, the mummified backpack full of REI wardrobe hadn't garnered much of my attention, until now. Ten minutes into this journey to Chile and I already had two strikes weighing on me, two rookie mistakes. My head was still swimming in the expansive beauty and solitude of another winter nestled away in the Great Smoky Mountains. It was time to come back to the real world, whatever that meant. It was time to shift gears.
Looking up from the cocoon backpack laying unnamed at our feet, I took a deep breath and smiled. Something in my smile must have slipped through a crack in the stewardess' tempered gaze. She handed me a name tag and said she would make an exception for my luggage, securing its trip to Chile. Walking away from the counter with a boarding pass in hand, I took another slow and steady breath. Two days ago I was still living alone on a mountain. Now I was surrounded by more people than I'd seen in months, I was being flown to Chile as Talent, and I was woefully unprepared for the contrast between being the only person dwelling in a 500,000 acre National Park to being another sardine smooshed into a aircraft-grade aluminum can that travels over 500 miles per hour. Like a good book, I was diving into the next chapter as quickly as I'd finished the last.
The plane landed in Santiago at sunrise. Staring out at a new world, my eyes followed the dark silhouetted ridgeline of the Andes Mountains. Hardly off the plane I was intercepted by a middle-aged Chilean man wearing a suit, holding a piece of paper with my name printed on it. Exchanging a smile and a handshake, we began whizzing through the airport toward an unknown destination. I knew where I needed to go, and I hoped that he did too. Approaching the line of passengers waiting to go through customs, my guide suddenly took a sharp right turn away from the crowd. Two police officers came into view. A sense of nervousness crept in. What had I done wrong? Was this strike three? We approached. Just when I thought we were going to run into the officers, my guide stepped aside. A short stream of salutations served sufficient as we ventured deeper into an unattended sector of the airport. Where was this guy taking me?
I opened my mouth to question, but just then a small customs kiosk came into view. Again, there was an exchange of words. I was signaled to approach. Handing over my passport, I waited silently for the next step.
"What is your occupation?" the officer said.
"I'm a photographer." I said, lying.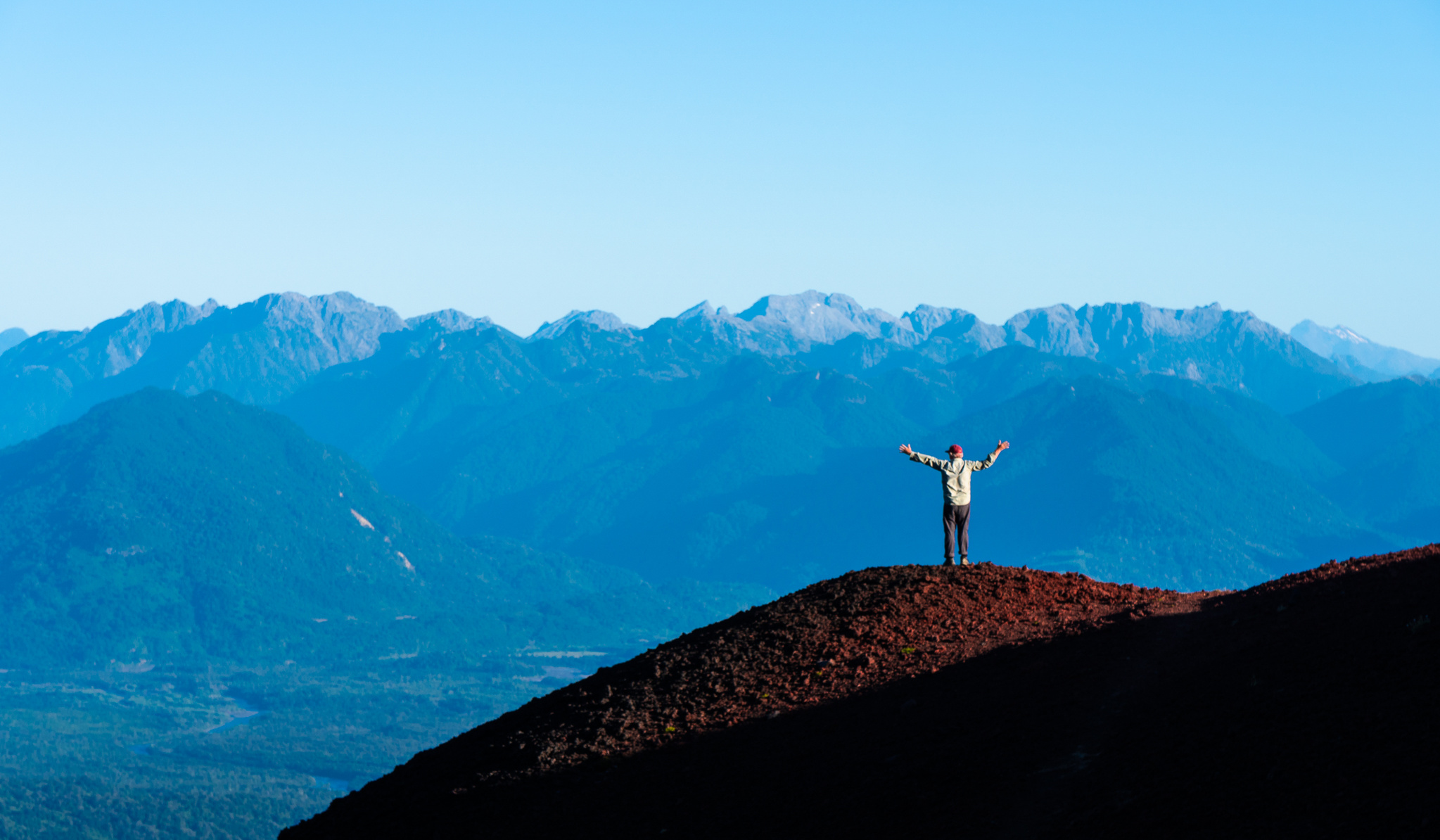 Now that I think of it, maybe I wasn't lying. Maybe, I was finally accepting a path. With a camera living in my hands the last few years, art hanging on walls of individuals I'd never met, and jobs in the queue, the statement was more honest than I realized. None of this mattered to the officer in the booth. He merely wanted, only needed, an answer that would suffice. Satisfied with the short discourse, he stamped my passport and waved me on.
Seeing your luggage appear on a conveyor belt in another country stirs a special sense of relief. I grabbed the awkward blob and continued toward a final layer of customs. In and out, we aimed for the domestic terminal. I had one more flight that would nestled me into the Los Lagos district of Chile, the Lakes District. Approaching the elevator, my guide announced that he was leaving me. In that moment a younger Chilean man in a lima-bean colored long-sleeve shirt appeared and shook my hand, leaving me with the impression that this was my new guide. My Spanish was rusty. I peppered the conversation with bits of English and Spanish. I don't remember what I was trying to ask, but he responded by reaching for my water bottle. This confirmed how far off my ability to communicate with him was. I laughed to myself - this was going to be fun. We both smiled at the silliness and waited for the elevator to continue its ascent to the domestic terminal.
"Adios my friend," he said as we approached the check-in line for the next flight, to Puerto Montt. Again, as if it was all choreographed a person called my name. Wait, they called me by my name! Turning to see who the English speaking guide would be, I met Sam - the art director for this campaign. After checking in, I connected with her and Michelle at the nearby coffee shop where we sipped dark espressos. Michelle was hired on for this event, like me. Tyhree soon joined; three of the four talent were now accounted for. Our stylist, Holly, joined the group soon after. Waiting on two more, we received news that Dani (talent) and Josh (videographer) had experienced some setbacks that would prevent them from joining us to our next destination.
Arriving in Peurto Montt, we met more of the crew. The scale and complexity of this campaign was becoming more and more apparent as the day unfolded. Mariano and Cesar from Atlantico, our South American production company, joined the procession. Walking into the parking lot, Mariano explained that all of our gear would be placed in one van and we would squeeze into another. There wasn't enough room for all of us in one van, so I opted to ride with Cesar in the gear van. The van hummed with a shared excitement. Cesar squeezed in to the driver's seat. Well over six foot tall and having left the two-hundred pound benchmark far in the distance, the smiling Chilean I was to share the drive with was friendly and intimidating all at the same time. Still smiling, Cesar asked if I spoke Spanish. "No hablo mucho español." I responded, smiling back. Pressing two fingers to his mouth, Cesar asked if I wanted a cigarette. Declining the courtesy, we continued to communicate in any way we could. What conversation started with crude sign language settled into the use of Google Translate. It was a perfect scenario to be in. I felt refreshed not knowing the language, the culture, or the details of the next two weeks. Every day would be punctuated with new experiences, new moments.
Smiling to myself I soaked in the Chilean country side as we zipped down the two-lane road.