Southern Appalachian Loop Trail
I first heard about the SALT last year, during a 5,000 mile bike tour across the country with Packing It Out. Riding along the Blue Ridge Parkway, I saw a lone hiker walking the shoulder of the BRP. He had the familiar look of a thru hiker - dirty, bearded, small pack. Pulling up next him, I asked what trail he was hiking. I figured he might be thru-hiking the Mountains to Sea Trail, but the direction he was traveling confused me.
"Where are you heading?" I asked.
"I'm hiking the SALT." he replied.
The conversation that followed planted a seed of inspiration I found hard shake. His hike of the Southern Appalachian Loop Trail was taking him over 350 miles through four states (North Carolina, Georgia, South Carolina, Tennessee) along no less than seven well-known trails/paths (Appalachian Trail, Bartram Trail, Southern Foothills Trail, Palmetto Trail, Mountains-to-Sea Trail, Art Loeb Trail, Blue Ridge Parkway). He finished his explanation by saying that the loop was was challenging and that little information existed on the SALT proper. Enough said, I was hooked.
Time passed, as it does. I brought the SALT up in conversations with friends at home and hikers I crossed paths with while serving as caretaker of the Le Conte Lodge this past winter. Nobody had heard of the trail. This only peaked my interest more.
Now, a year later. My partner and I have carved out a sliver of time to attempt the Southern Appalachian Loop Trail. With no multi-month trips planned this year, the SALT should be the perfect trip to scratch the ever-present itch to hike long distances - a chronic symptom from previous thru-hikes.
Below are a set of transcribed entries from my pen/paper journal. I hope my account of the SALT showcases the beauty and challenge of Appalachia.
Thanks for taking the time read!
*Interested in a different perspective - check out Leah's Blog.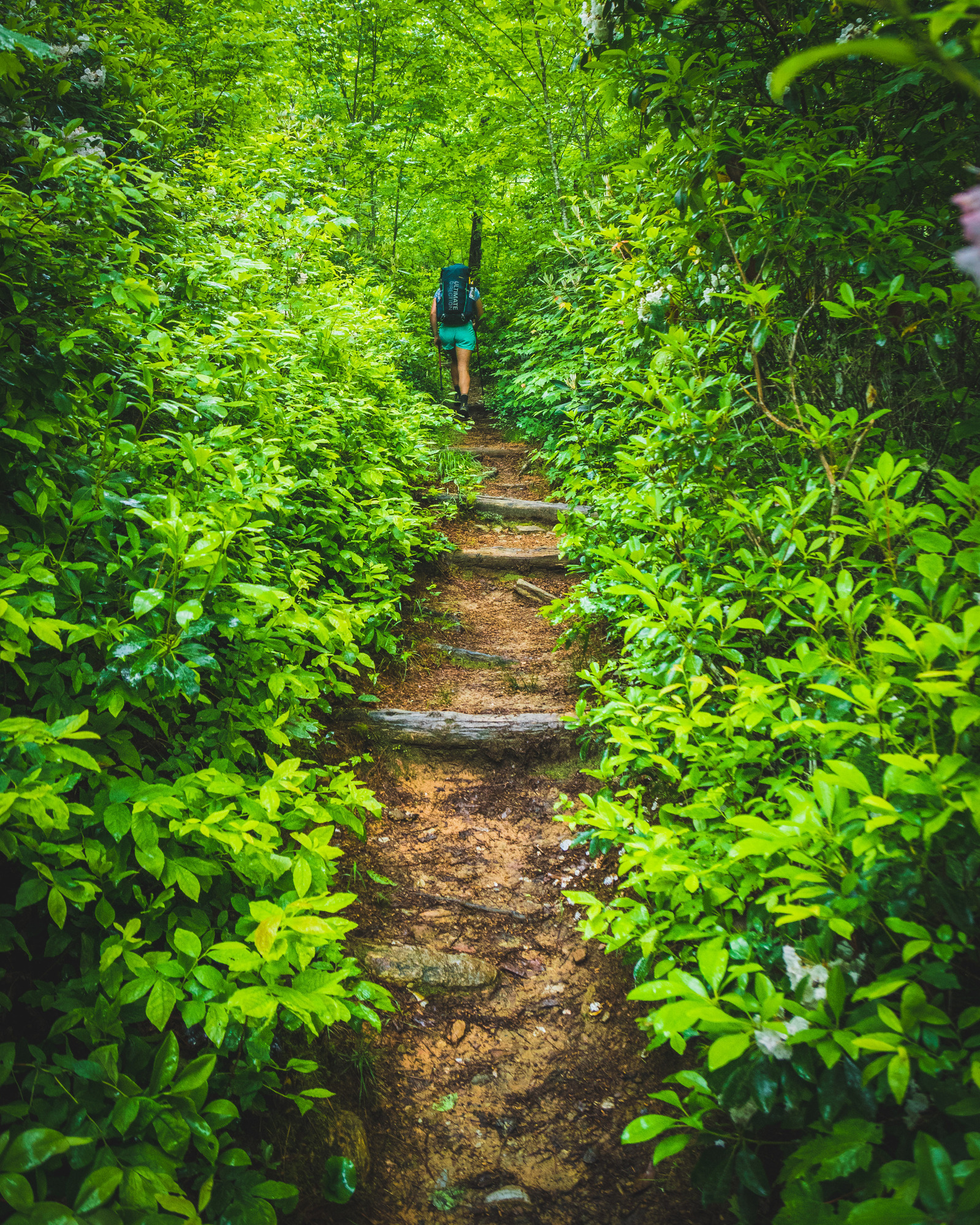 Day 0.1
May 27th_10:00PM_1 mile
Leah and I started our two-week sojourn along the Southern Appalachian Loop Trail (SALT) a day earlier than we originally planned. The Nantahala Outdoor Center (NOC) was the ideal starting point for us because it took care of a big climb right away and would bring the finish of our journey close to home; but honestly, we started from the NOC so we could secure a pizza and beer finish, naturally. I knew the gorge would be a vortex. I'd been spellbound by the cold water and lush forest on many occasions before. Would this visit really be any different?
We arrived and met with Leah's friend Dominique, who happened to be in the area on vacation. My brother Steven joined us too. He wasn't on vacation. He would be shuttling my vehicle back to the house after we hiked into the woods. Conversation and a few rounds of Deschutes - Fresh Squeezed IPA kept us anchored to the small wooden table overlooking the Nantahala River. Needless to say, we didn't get going as soon as we'd planned. Good thing we were already ahead of schedule.
We finished the last round, said our farewell's and marched south - up the Appalachian Trail. We climbed for a well-rounded mile before arriving at Rufus Morgan Shelter. We knew we were too late to claim a shelter spot. I had already eyed the trees above and scanned the bare patches of earth below for a suitable home for both ourselves and our food. On autopilot, we both took to setting up camp.
Leah and I sat quietly on a horizontal oak and began digging into a zip-loc bag full of tofu & spinach from Leah's incredible Chinese feast, earlier that day. I was dubious of her plan to prepare a feast on the same day we planned to depart, but I was happily proven wrong and couldn't ask for a better first dinner.
Spooning the last bits of spinach & tofu from the bag - we talked about trip expectations and silently wondered about the storm cruising north from the Gulf. We had just over two weeks to complete the hike, then we would need to pack up and head Florida for a wedding. Time wasn't necessarily on our side; and at 25 miles a day, we would definitely be pushing ourselves physically. I learned long ago that easy miles traversing Appalachia are a rarity. Our loop of the SALT would either happen or it wouldn't; regardless, it was guaranteed to be an adventure. Leah and I shared our final thoughts and then crawled into our sleeping bags. We were both excited to put on some miles in the Southern Appalachians.
Off we go!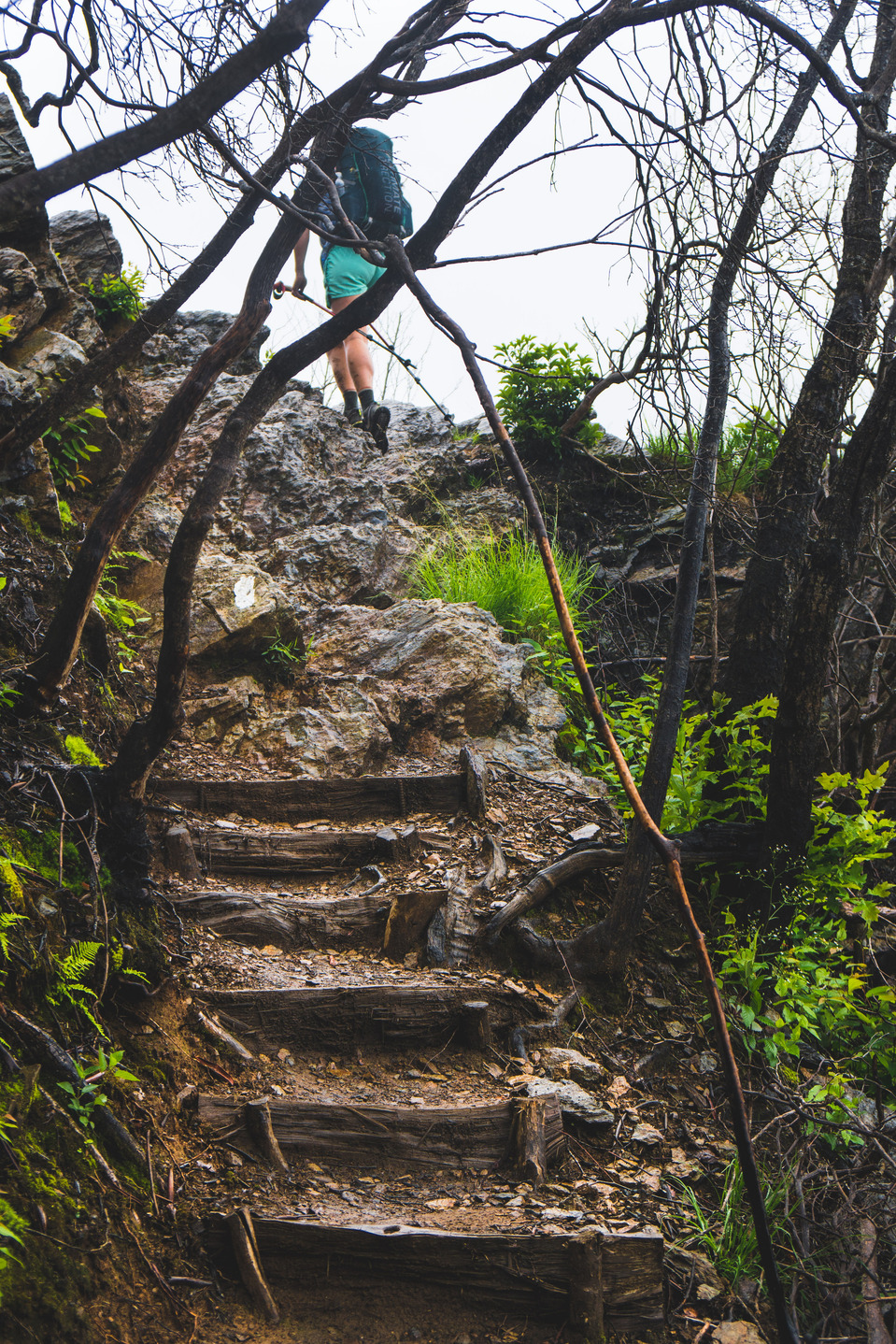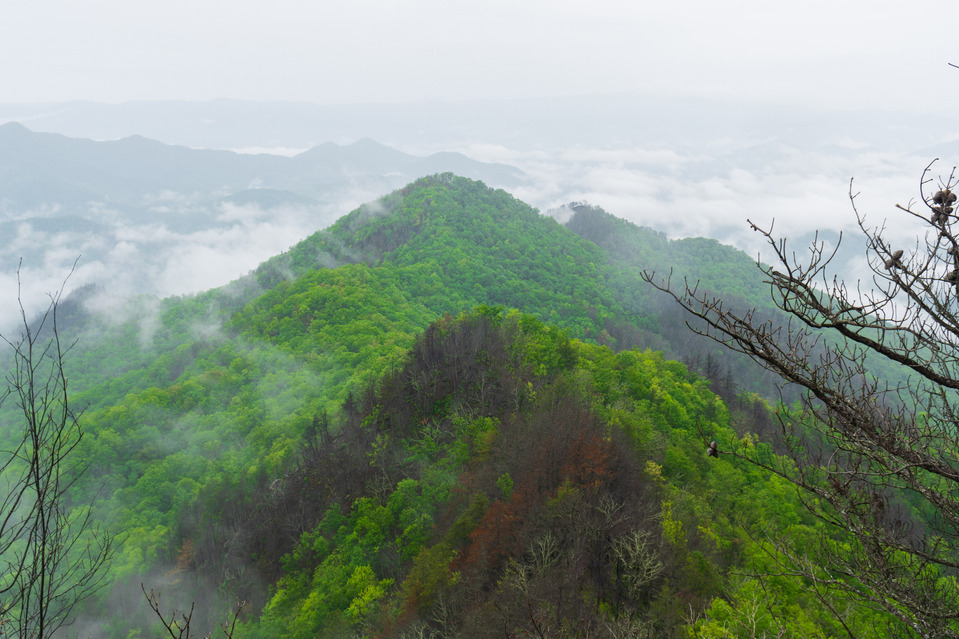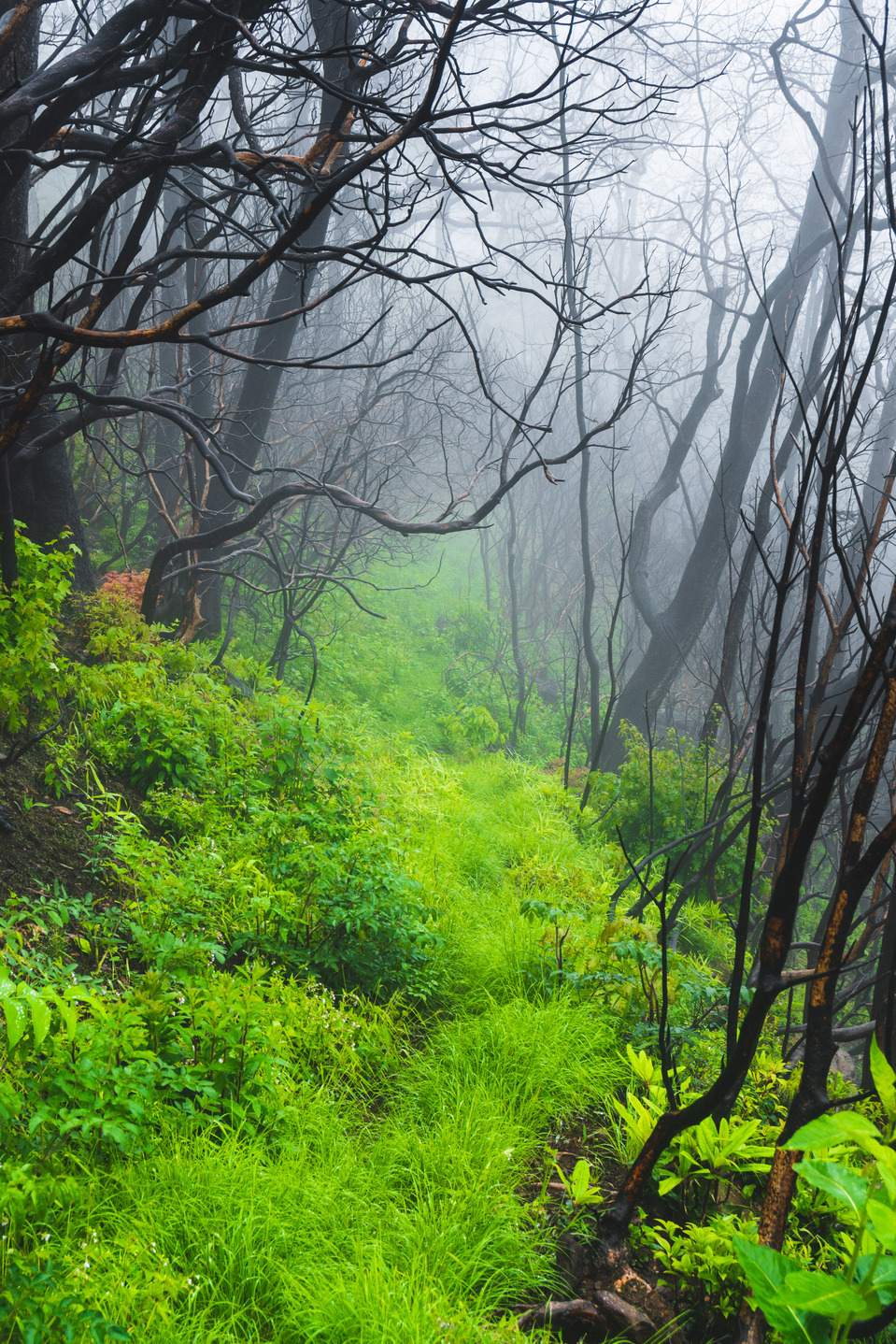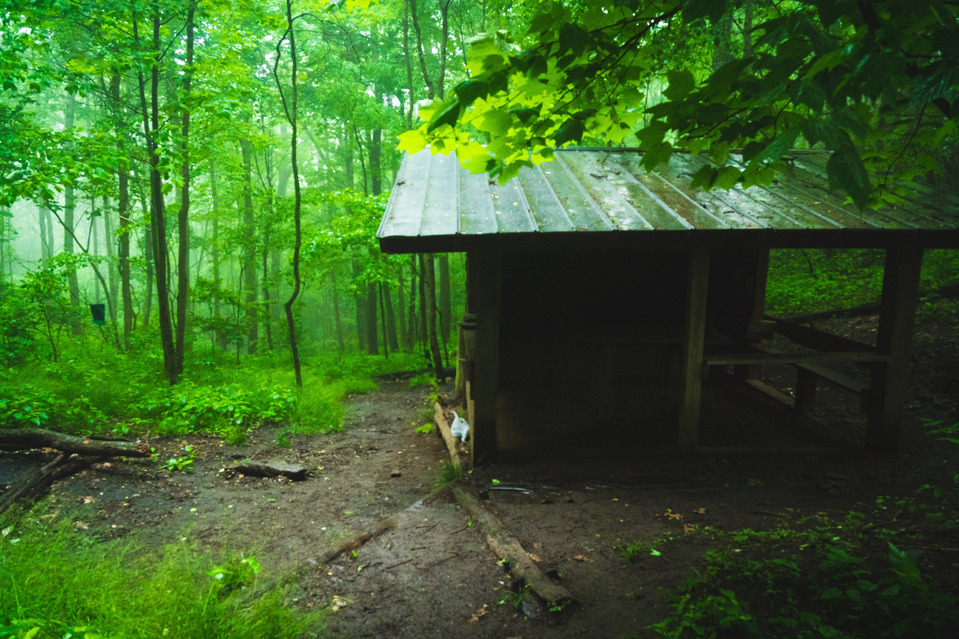 Day 1
May 28th_10:09PM_23 miles
Leah artfully navigates her way out of the tent. She is attempting to pee and brush her teeth without getting washed away in the deluge that engulfs the world around us. All day, save a few hours, we have been assaulted by Subtropical Storm Alberto making his way north from the Gulf of Mexico. I shove another dried mango slice into my mouth and begin reflecting on the day.
"How's the rain?" I yell.
…no response.
Leah disappears into the darkness, beyond the red glow of my headlamp. I look down at my matching red moleskin journal. What a day…I begin writing.
—
The morning started as any good one should - with coffee and mountains. Shortly after finishing our morning to-do's, we continued the ascent out of the gorge. The trail was bursting with an emerald green I can only imagine might be found in the tropical jungles of South America. The vibrant green distracted me from the raindrops that began trickling through the canopy above. The rain was here.
Climbing consistently we hiked until the Wesser Bald Shelter came into view. The rain progressively gained momentum during our 15 minutes of dormancy. We dove back into the storm and topped out the climb to Wesser Bald. The fire tower was socked in, so we didn't stop to see the cloaked view. Continuing south, we made good time down into Tellico Gap, again we didn't stop. Half-way up the climb to Rocky Bald, we began to feel the weight of our morning climb out of the gorge. Cold Water Springs Shelter soon came into view. Perfect timing for a sheltered break spot.
The folks present at the shelter were a dismal bunch. The rains had apparently zapped their spirits. I wasn't hungry; so instead, I adjusted a few things on my pack and attempted to patch my food bag, the same over-stuffed food bag that fell from the bear hang and burst on the side - first time for everything, I guess. The patch looked good, but I would later find that the damp conditions prevented a proper seal. Can't win 'em all.
Leaving the shelter, we walked into the toughest part of the day - rain, rain, and more rain. Correction, the tough stuff didn't really start until we left the Appalachian Trail and proceeded onto the Bartram Trail. We stopped at Wayah Shelter for another sheltered snack break. Another dismal crowd. Six people lay face-down in their sleeping bags. One cold dog lay shivering atop the pile of muddy hiking boots. Leah and I consoled the pup, ignoring the goose-down cocoons filling the platform.
I began shoveling food, listening as the rain hammered rhythmically against the thin metal roof. Two northbound thru-hikers sloshed in with similar prospects as our own - eat and hike on. I relayed that the next shelter already had three people in it and that we saw three more hikers heading toward the six person shelter. I looked down and pointed at the ground next to the dog.
"Thats the driest piece of dirt we've seen all day," I said.
Blank stares…
They took advantage of the dry piece of level dirt.
With his home setup, one of the hikers began tying a dry-line to hang his damp gear. I watched and continued shoveling chocolate and raisins into my mouth. After watching him struggle with the task for ten minutes, I offered to show him a simple way to rig a dry-line. He looked at me, ready for some sort of clarity. After quick truckers-hitch lesson, we waved goodbye and vanished into the pouring rain.
The Bartram Trail served as the line of demarcation. The trail transitioned from a a muddy double-track highway to a leaf covered single-track corridor of solitude, undulating aggressively toward Franklin, NC. After wading through post-burn new growth, we embraced the jungle like appearance of the Bartram Trail. The canopy was so thick, the climbs so steep. We felt remote on this trail forgotten in time. We were definitely experiencing what the Bartram Trail is known for - solitude.
We missed our first camp site option. Seems the map marker was only a suggestion. I did remember seeing a flat area a mile back that probably made a great campsite in spring & fall conditions, not during peak growing season. Darkness began creeping in as we walked up to our second campsite option. It felt good to be home for the night. Ravioli soon boiled in the pot.
Another wave of water came thundering toward us. The scramble that ensued was impressively organized - nothing critical saw a drop of water, except me. I lay soaked from the endeavor. Lets be honest, I needed a shower.
All said and done, it has been a full first day on the S.A.L.T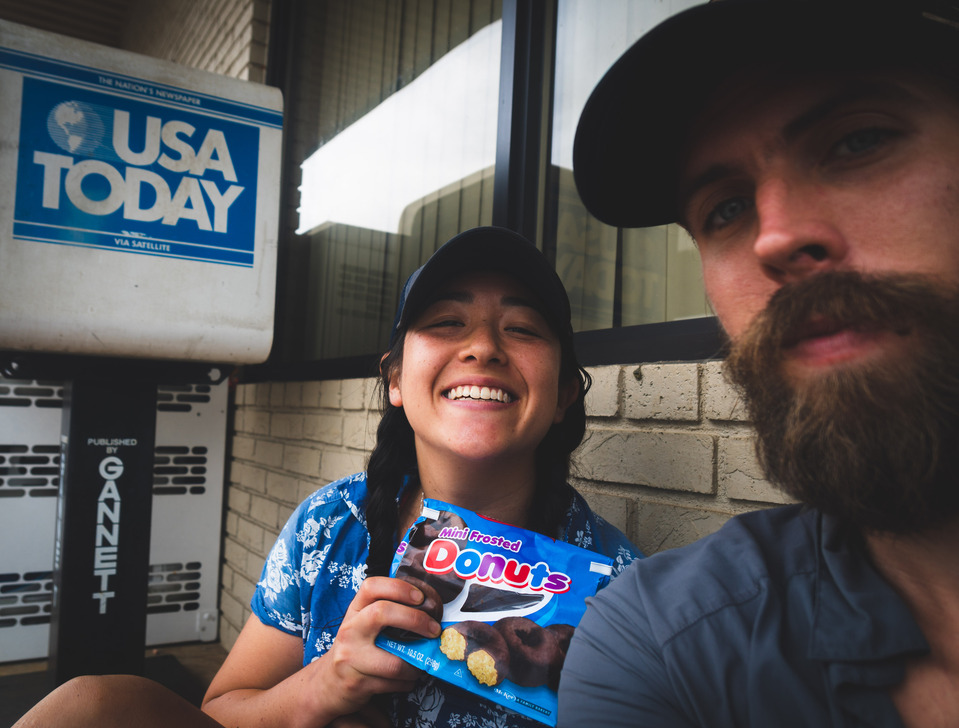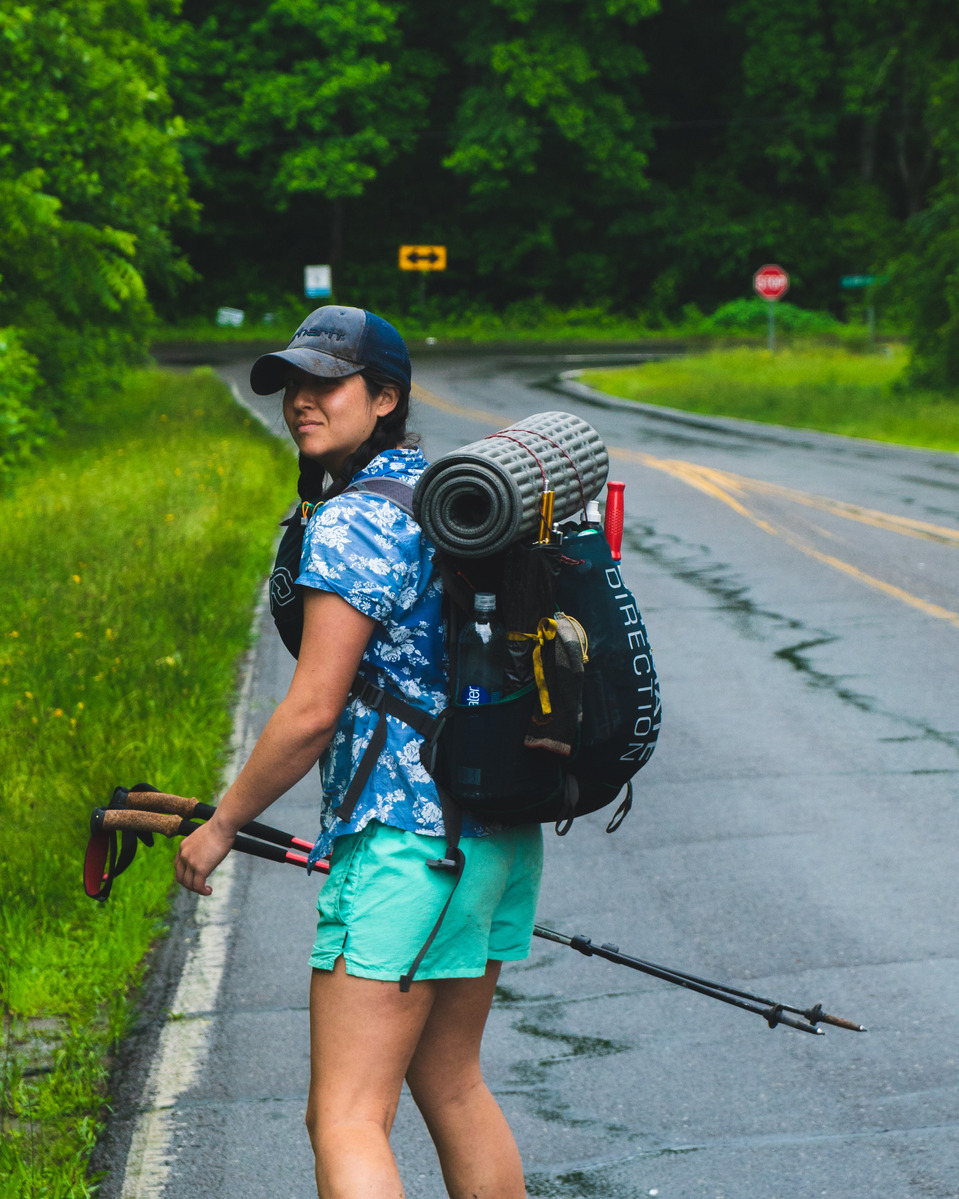 Day 2
May 29th_9:47PM_22ish miles
I woke with heavy eyes and a light heart. Yesterday's downpour made for some challenging miles , but I was grateful to be out in my element - happy to be back living in the woods. We started our morning on a familiar section of the Bartram Trail. During my first winter living out of my van, I ran this section often.
Passing by the spur to Williams Pulpit, I couldn't help but laugh at how steep the Bartram Trail got in spots. Descending quickly, we made it down to the Wallace Branch Trailhead. From there we began the 10+ mile road walk that would eventually lead us back into the woods. It didn't take long before we were hiking by the Nantahala Ranger Station and into a nearby mini-mart. Less than two days into the trip and we couldn't resist the pull of cheap calorie thrills - thru hikers once again! Chips, a Milky-Way, a turkey sandwhich, coffee and those addicting little chocolate donuts filled my pack as left the store. Finding a concrete seat next to a USA Today news box, we fell into a fit of snacking.
Coming to our senses, we grabbed our packs and moved on down the road. Two miles later, a Zaxby's came into view. When is there ever a Zaxby's on trail? We decided to yield, grabbing a quick sandwich before continuing on, again.
Along the paved monotony we met some friendly cows and a few suspicious horses. A couple older gentlemen offered us a ride, but we respectively declined. The hard level surface began to annoy us - we wanted woods again. The road-walk was beginning to feel drawn out as we approached the location where we would reconnect with the woods.
All we saw were houses and driveways. Looking up one driveway, we saw the orange blaze we were looking for. Halfway up a driveway the Bartram Trail disappeared into the mountains. Our dogs were barking (feet) so we took a quick break in the middle of the paved driveway.
I left a large piece of chocolate next to my water bottle and began loading up my pack. The pack felt heavier than before - I had taken on Leah's food weight. Unfortunately, her fast-pack wasn't handling the trail weight as well as we'd originally hoped.
The climb back up to the ridge was stout. New waves of wind and rain hammered us as we climbed. The rhododendron began to fade as we reached the top of the mountain. The understory was replaced with poison-ivy, stinging nettles and jewel weed. Cruising through the wet landscape, we came upon an old school bus. I was curious - Leah was spooked. We decided against taking the poison-ivy journey necessary to take a break in the old bus. Twenty minutes later, a momentary pause in the rain created an opportunity to relax on a group of exposed stones. We took a quick snack and hiked on before the rain could catch us off-guard.
I looked down at my watch and realized that it was later than I'd thought. The greyscale sky, with no sign of the sun, made it hard to know what time of day it was. We checked our map and made a plan for water and camp, both were just over a mile away. Excited about our dinner prospects, we hiked quickly to water and then to camp.
Everything around me is soaked, but I'm warm, happy, and full of food…
…Life is good.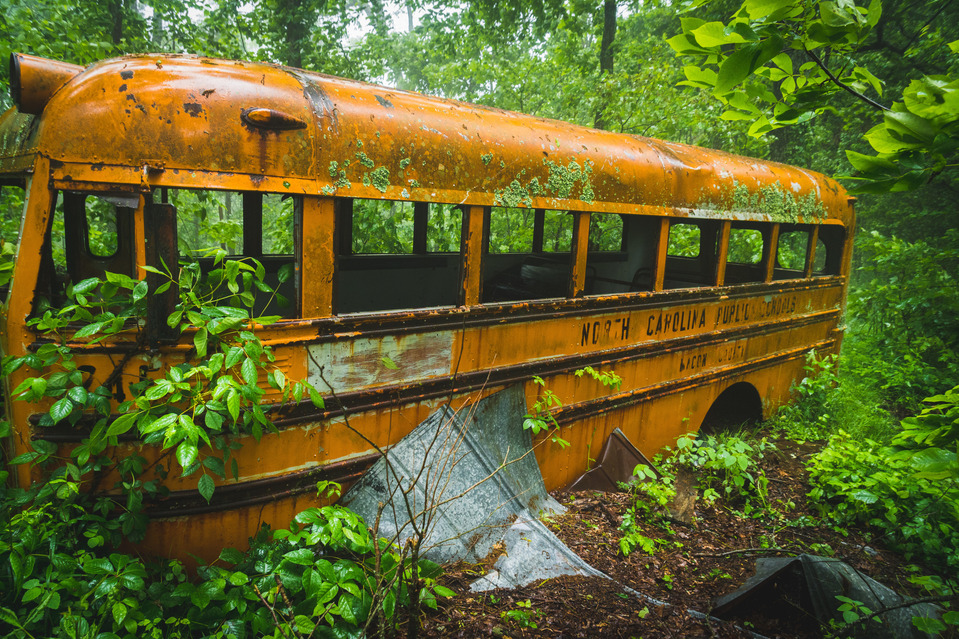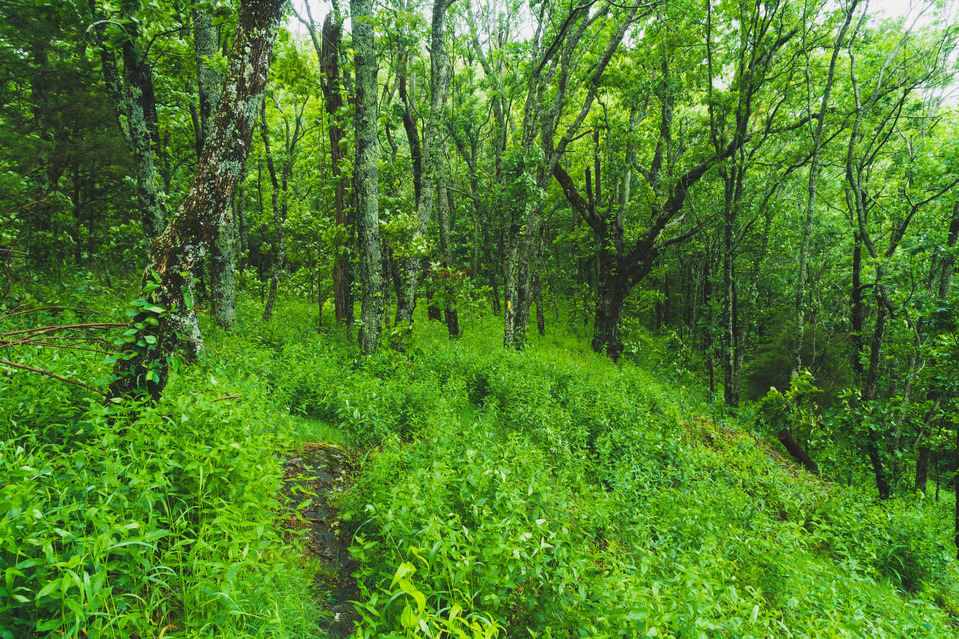 Day 3
May 30th_8:05PM_15miles
We woke in the rain - we went to bed in the rain. Today ended up being some of the hardest earned miles I've experienced in awhile. We had to put a lot in to get a little out. Good thing we each packed a sense of humor. Leah proclaimed that she was reaching her max, in terms of water saturation. We decided to cut the day short. The tropical storm must have heard our plan. We received a torrential soaking right in the middle of setting up camp.
Word of the wise - never leave home without a sense of humor.
Overall, the day was still really beautiful. We summited Mt. Scaly, which reminded me of the Appalachian Trail in Maine. We hiked past so many gorgeous waterfalls, all flowing at a maximum from the deluge. Some of the most impressive waterfalls were just south of Osage Overlook.
Another highlight was hot ramen - in ponchos during a rainstorm!
Theres probably more that could be said about this day, but todays journal will just be the highlights. It's time for bed.
— — —
Day 4
May 31st _9:27PM_15 miles
The rain kicked our butts yesterday. Today's plan of action was to get clean and re-evaluate. After 15 miles of rain free jungle trail, Leah and I hitched into Clayton, GA from Warwoman Dell. More gorgeous waterfalls highlighted the hike from Rabun Bald down to the Dell. Leah's pack was giving her a terrible time and more pending rain inspired the change of schedule. We couldn't stop the rain, but we could fix the signs and symptoms caused by the pack. We devised a solution that would solve the pack issue. We would attempt the 'Hi-lo Method for Backpacking'.
The plan would be to send Leah's pack home and combine all of our gear and food into my pack, a new 60 liter prototype from Granite Gear. With a comfort rating of 45+ pounds, my secret pack might just do the trick. By taking turns carrying the pack for 1-2 hour intervals. One hiker would be under high load and the other under low load; thus, the Hi-lo Method for Backpacking.
We should only have to use this method for the next 125 miles, until Leah gets a replacement pack. So without hesitation, we shipped her Fastpack 35 home and jogged to the nearby Ingles grocery store to top off our food supplies to fit the new itinerary. We jogged partly because we wanted to, but mostly because another wave of torrential rain was thundering toward us. We made it to the store right as the rain came.
Another word of the wise, it's always smart to eat something before you shop for a backpacking resupply, especially when your in the midst of a multi-week hike. We chowed down on watermelon and a submarine sandwich in order calm our cravings. Between mouthfuls of sandwich, we talked about what savory and sweet foods we wanted for the next section. Our meal complete, we took to getting supplies.
It didn't take long before we were back at the hotel. We jumped right into getting the food organized, our gear cleaned, and our bodies scrubbed free of caked on mud. Satisfied with our progress, we decided to eat - again. Lucky for us, our hotel had a Mexican restaurant attached to it. After a large dinner, we realized that luck was, again, on our side - there was a Dairy Queen across the street. We promptly investigated.
Our stomachs full and eyelids heavy, we wobbled back to the hotel and settled in for the night. I'm uncertain how our bodies will hold up doing 25 miles a day with such a heavy pack. If we had a few hundred miles already under our belts, I'd be less worried about it, but I'm confident that it things will work out. The good news is that we will be leaving the Bartram Trail soon and meeting a new trail - the Southern Foothills Trail. As a bonus, the weather is supposed to be pretty darn good the next few days. All we have to do now is sleep, load our one pack, and hitch out of town. Here goes nothing…
…Onward.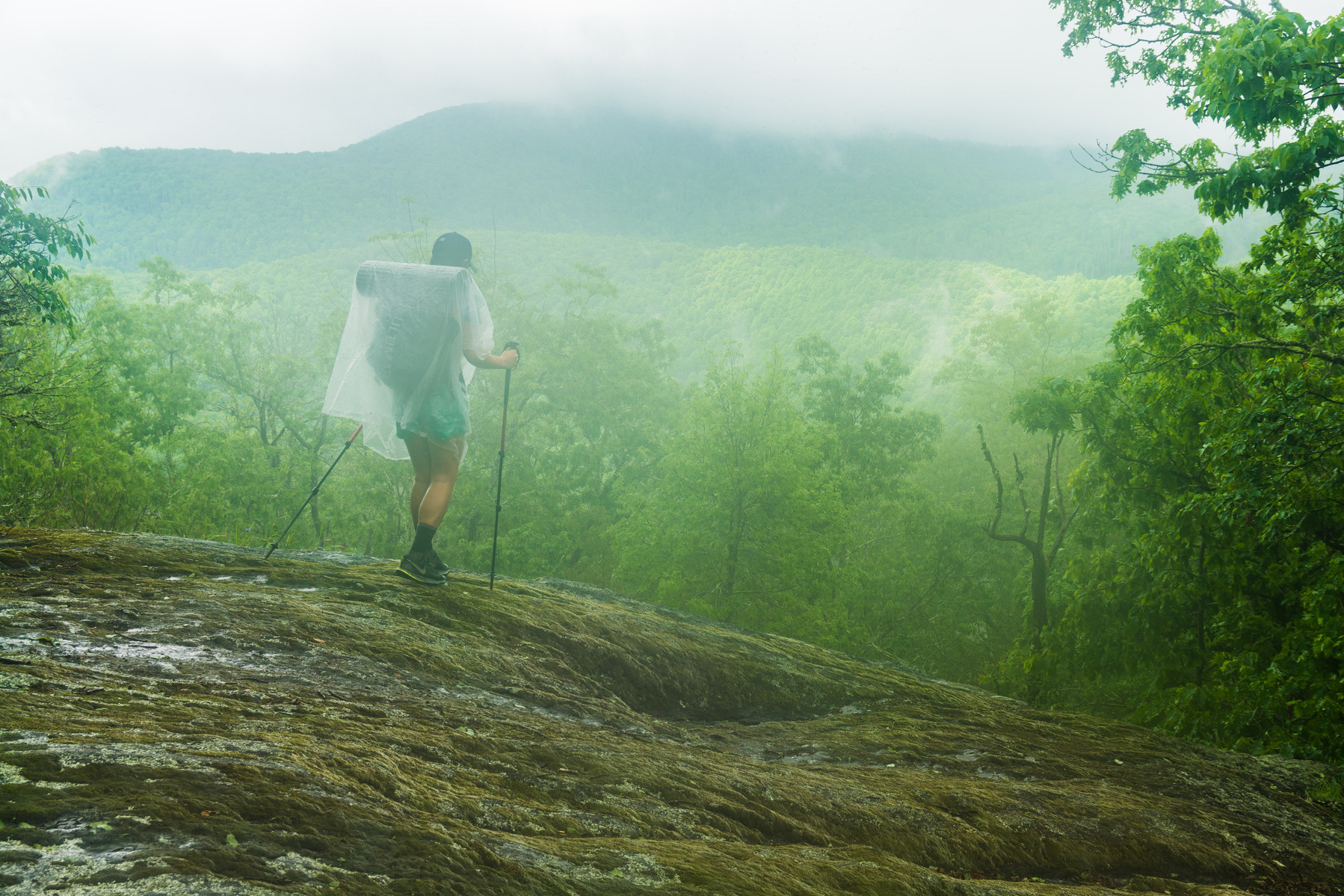 *Below is a link to purchase my favorite photo from this first section of the SALT. I'll be donating 10% of your purchase to the Appalachian Trail Conservancy to help further maintain and protect the incredible Appalachian Trail corridor.
Photo: